Pizzarageous is the premier pizza wedding caterer in Los Angeles, Orange County and the surrounding cities in southern California. If you are looking for a trusted wedding caterer for your special day and you want full service catering with zero hassles — consider Pizzarageous! We have been providing affordable wedding catering for clients on their special day since 2010.
If you are looking for fun and stress free wedding caterer, give us a call to reserve your special day for a one of a kind memorable wedding cater.
Outrageously delicious pizza cut hot & fresh at your event!
No more cold soggy pizza at your celebration or reception.
Custom hand crafted pizzas by trained chefs prepared & baked on-site.
We bring the oven right to your party or event to ensure the hottest freshest pizza.
Perfectly affordable for your wedding reception, we do all the work!
Ask about our Vegan and Gluten Free options.
Get a quote and check availability
When you sign up for Pizzarageous wedding pizza catering services you are partnering with a dedicated team of professionals. We feature full service wedding catering – meaning you get to focus on your guests and each other and not have to worry about set up, prep, making, baking, replenishment OR cleanup! The Pizzarageous team is comprised of an elite group of highly trained professional pizza chefs who are friendly, personable and will get your guests taken care of with grace and dedication. We want your event to be a complete success.
Serving pizza at a wedding offers wonderful food that people love. Not only do we serve delicious pizza but we offer a wide variety of flavors from choices of: bold, classic, sophisticated or the adult-only-alcohol infused selections. 
For your special day choose from our incredible pizza menu options below:
BASIC MENU >
Our basic menu offers comfort in all of the right ways with our classic pizza toppings done right! This menu features favorites such as vegetarian, pepperoni, and our three types of cheese pizza–each freshly baked to perfection with our delicious italian style crust. 
UPPER CRUST MENU >
A more sophisticated flavor flair where you can select your wedding reception menu from our offerings of custom specialty pizzas. Our upper crust menu features 13 pizza creations to choose from including: The Works, Thai-rageous, Barbecue bacon triple cheeseburger and many more delectable flavor creations.
WEDDING PIZZA BAR MENU >
Our pizza bar will have your guests eagerly lined up to construct their very own pizzas. You decide on the various fresh ingredients and your guests get to top their own personal pizza to their exact specifications with fresh toppings, sauces, cheeses and seasonings. A pizza bar wedding catered by Pizzarageous is a fun and interactive way to get your guests involved in crafting their meal to their preference. And our pizza chefs handle all of the baking.
BOOZZA MENU >
Adult only for this menu selection. We are tipping the tables over with the taste meter on this menu–IT'S THAT GOOD! So if you want to jazz up your wedding reception with booze infused ingredients this is hands down a sure winner. Our alcohol infused line of fresh pizzas will amaze your hungry wedding guests since these pizza toppings are infused with vodka, fireball, gin and bourbon. These flavors are sure to increase the party factor of your wedding reception to a whole new level that your guests won't soon forget!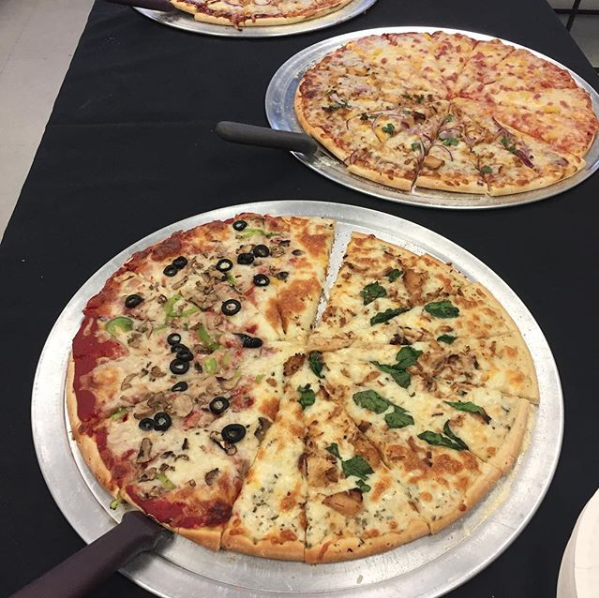 PIZZA AT A WEDDING 
An infusion of traditional meets new. Classy and sophisticated, flavorful and most of all memorable. We want your special day to be something that your guests remember fondly by the sheer fact it's such a joyous occasion! And our team will work tirelessly in the background so that your guests remember the fantastic food as well. 
At Pizzarageous we made it our life's mission to take care of our clients as if they were our own family. Your successful event is exactly what we strive for by offering only the best pizza catering service in Los Angeles and the surrounding area. We are so dedicated in fact that we don't even let venue or location hinder us in the slightest. We bring our own mobile pizza ovens onsite and even if power is not available at your venue or beach of choice–we can bring our own generators!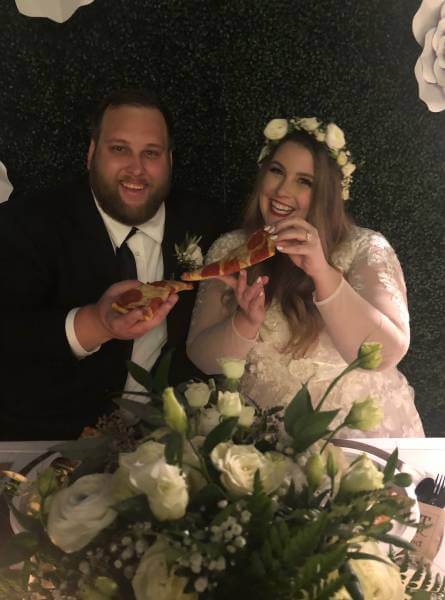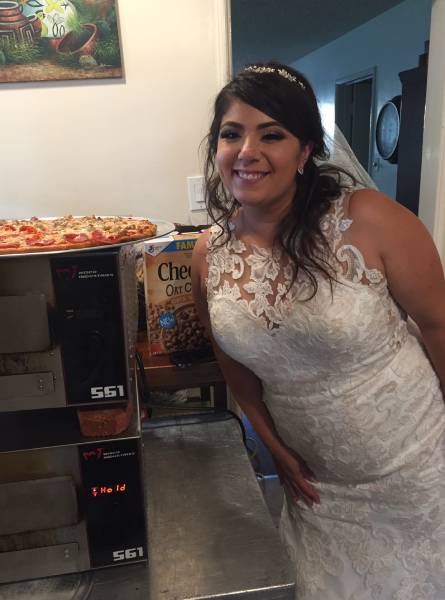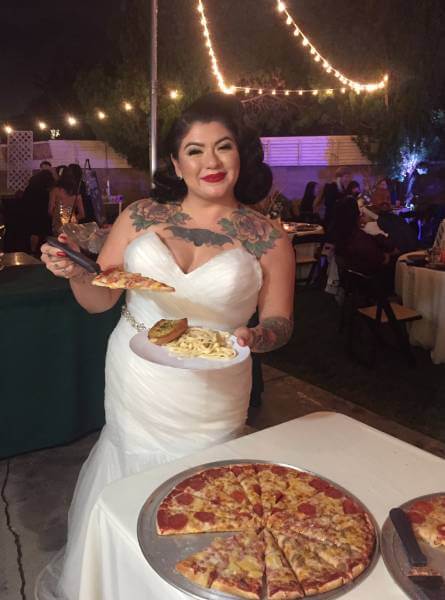 Our full service catering checklist is as follows:
Prepping

–We set up our own prep tables so our team can get to work on crafting your chosen pizza offerings for your guests. In the event that your venue requires it we will have our prep area separate from the serving area. Our prep tables feature only the freshest of ingredients. We will have your specific selection of toppings, sauces, seasonings, cheeses and crusts in ready supply.

Baking

–This all starts with power–we bring our own generators if your wedding venue doesn't provide power options; just let us know and we will handle it. For your incredible wedding pizza catered meal, we bring the Pizzarageous Mobile Pizza Ovens. That's right-we bring our own ovens onsite to ensure the freshest and most delicious, consistent bake possible. 

Serving

–We then have dedicated serving tables that make for easy access to fresh and amazingly delicious food options: Hot pizzas, appetizers, salads, and sides. We also provide seamless replenishment so that your guests do not go hungry.

Cleanup

–Last but not least Pizzarageous wedding catering includes cleanup. This is one less thing for you to have to worry about as you enjoy your special day. We bring the

service

to

FULL SERVICE CATERING.
We work really hard so you don't have to. All while being a budget friendly full service wedding caterer. We offer highly cost effective options for your wedding reception in the Los Angeles and surrounding area. Get a quote.
SEE OUR GALLERY OF PREVIOUSLY CATERED WEDDING RECEPTIONS
PIZZARAGEOUS PIZZA CATERING FOR YOUR LA WEDDING RECEPTION
We can make any venue anywhere no matter how remote work so that we are able to serve our delicious pizza at a wedding – YOUR wedding—anywhere!! With our onsite mobile pizza ovens and our phenomenal pizza, we will help you set a taste and flavor experience for your guests on your special day. Pizzarageous pizza is a hot, fresh, classy fun food. Our full service catering will not only provide your wedding with amazing pizza but also an exceptionally unique food experience.

Don't forget that our onsite wedding pizza catering service comes with a full range of menu options that you select in advance–so that the day of your wedding we are ready to rock and roll!  Let us help make your event truly special with our pizzas that your guests are sure to love.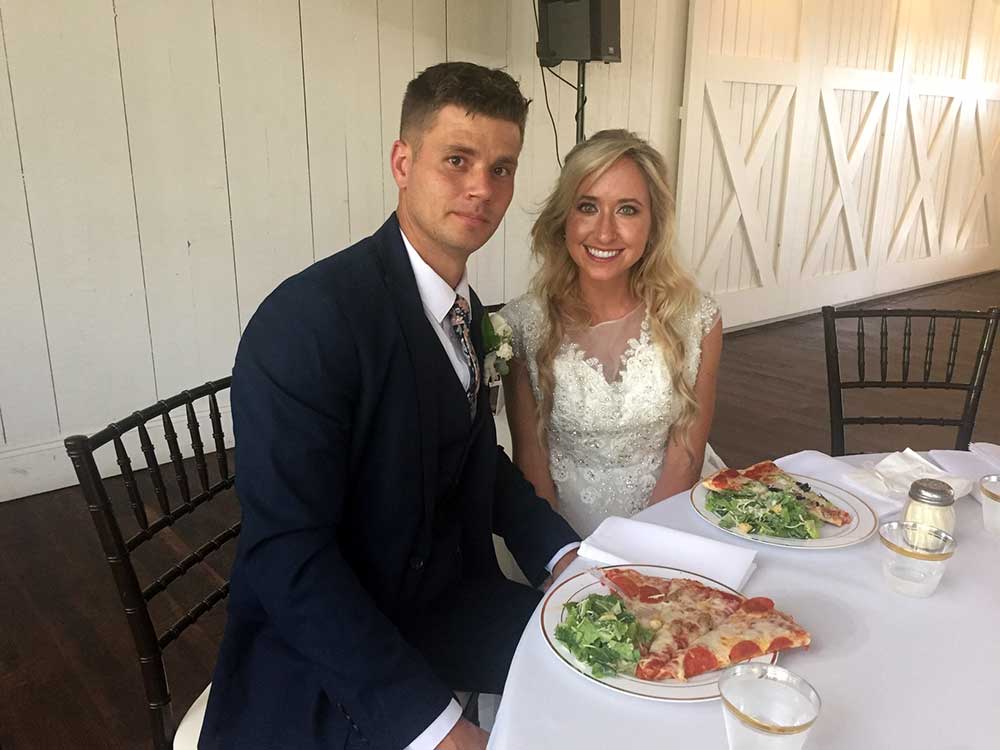 Testimonials
what customers say
"The food was great, the service was prompt and very professional. Susanne arrived on time, set up quickly and served my guests excellent food! Great communication prior to the event. I hope to work with her again. "
"On Behalf of the Mira Loma Home Depot SDC, I would like to thank you, your husband, and son for the great service you provided us with yesterday, you truly went above and beyond our expectations and our associates thoroughly enjoyed the pizza party. Thank you for sending me the link for the pictures I really appreciate you taking the time do so."
"I hired pizzarageous for my sons graduation party. The service was awesome. I told them where I wanted them to setup, and they did the rest. The first party that I didn't have to do all the work. I got to relax and enjoy myself."