Get a quote and check availability
Pizzarageous – Mobile Pizza Ovens At Your Inland Empire Event!
Are you planning an event in the Inland Empire, CA area and need catering? Let Pizzarageous help you plan a memorable experience with our mobile pizza catering services. We bring our own pizza ovens so your guests enjoy pizza the way it was meant to be enjoyed – fresh, hot AND delicious!
We have an outrageous line up of custom pizzas for your guests to choose from, and we can even set up a pizza bar so your guests can choose their own fresh toppings! We also have a scrumptious menu of appetizers and a wide selection of icy cold drinks!
Pizzarageous has the ability to affordably cater any size event. And our mobile pizza ovens allow us to cook at your venue of choice; we can connect to standard power outlets or if your event is in a remote location we can bring our generators!
Our team of pizza chefs ensure that your event is a hit – we take care of prep, set up, baking, replenishing, serving, and even cleanup! When you choose Pizzarageous you have less things to worry about and can enjoy your event right along side your guests!
INLAND EMPIRE CORPORATE EVENT CATERING
Having a corporate event or celebration? We are here to help make your event stellar with our delicious pizza selections that you get to choose in advance! We have customization options for your very own speciality pizzas or consider our traditional menu, pizza bar, speciality pizzas, or our alcohol infused pizza choices!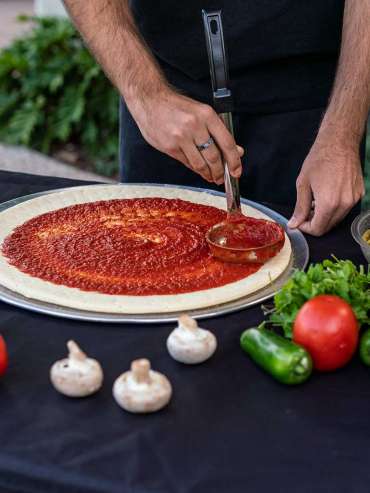 WEDDING CATERING
For the love of pizza let us cater your wedding and make it PIZZARAGEOUS! Choose from any of our menu selections and it is sure to be a hit! Let us cater your wedding with our pizza with our mobile pizza ovens in tow and we will ensure the prep, set up, serving and replenishing and clean up goes smoothly! Weddings can be absolutely 100% PIZZARAGEOUSLY perfect!
BIRTHDAY PARTY CATERING
No matter the type of party that you are planning you are guaranteed a win when you book Pizzarageous mobile pizza catering service! Everyone loves pizza and with our large selection of menu options planning is a breeze! Our staff then handles all the details expertly and timely from prep, setup, service, replenishing and cleanup!
PIZZARAGEOUS MENU OPTIONS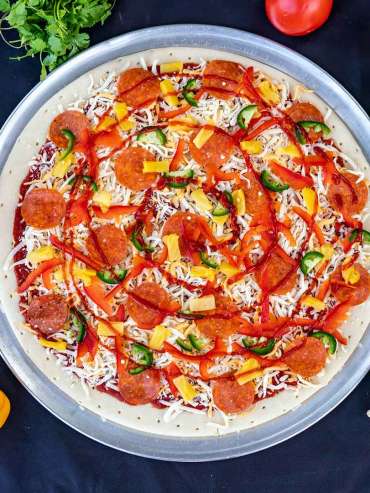 You get to pick the food items in advance when you book your event with Pizzarageous! Choose from the different menu options below for what works best for your event and we will be sure to deliver amazing food and service to elevate your guests experience to a whole new level!
APPETIZERS
Don't forget to add starters to your catering order from our fantastic array of appetizers! Choose from everything from hotwings to fruit platters and so much more!
BASIC MENU
Not so basic with these popular pizza choices that are traditional yet PIZZARAGEOUS! Choose from five different pizzas: Pepperoni, Hawaiian, Italian Sausage, Vegetarian and Three Cheese, all baked on delicious Italian style crust.
View Full Basic Menu >
UPPER CRUST MENU
Choosing from this menu will treat your guests to a flavor sensation they won't soon forget! Take it to the next level with our specialty pizzas such as: The Works, Thai-rageous, Barbecue bacon triple cheeseburger and many more specialty flavor options! We feature upwards of 13 different specialty pizza flavors to choose from with this menu!
View Full Upper Crust Menu >
PIZZA BAR MENU
Add our Pizza Bar to your event and this will get your guests some hands on pizza creating experience! Your guests get to design their pizzas and then entrust them with our Pizzarageous team to have the pizza expertly baked to perfection! With the pizza bar menu option your guests will select their toppings and sauces to make a pizza that is uniquely theirs! An experience that your guests will enjoy at your event!
View Full Pizza Bar Menu >
BOOZZA MENU
Talk about an unforgettable flavor sensation! Our Pizzarageous Boozza Menu is PIZZARAGEOUS! Our alcohol infused pizza toppings make for a masterful flavor burst for your taste buds. Torch the old dreary cardboard pizzas in a blaze of fireball, bourbon, vodka, or gin to elevate any event to a whole new level!
View Full Boozza Menu >
PIZZA CATERING FOR YOUR SOCIAL EVENT
Having Pizzarageous cater your event is a sure win for any occasion! Our team is dedicated to ensuring your guests enjoy their delicious food and we ensure serving, set up, prep, replenishing are done timely and with no drama! The Pizzarageous team also handles clean up! Leaving your guests satisfied as well as those running the event – so they are not having to worry about afterparty trash! We bring our own mobile pizza ovens onsite along with our famous PIZZARAGEOUS pizza to ensure an unforgettable event for you and your guests! We are PIZZARAGEOUS and we are experts in what we do!
SCHEDULE PIZZARAGEOUS TO CATER YOUR EVENT TODAY!
Book us to cater your event in the Inland Empire area today by sending us an email or calling 714-822-7550.
Testimonials
what customers say

"The food was great, the service was prompt and very professional"
"The food was great, the service was prompt and very professional. Susanne arrived on time, set up quickly and served my guests excellent food! Great communication prior to the event. I hope to work with her again. "
– Lee, Tustin, CA

"You truly went above and beyond our expectations."
"On Behalf of the Mira Loma Home Depot SDC, I would like to thank you, your husband, and son for the great service you provided us with yesterday, you truly went above and beyond our expectations and our associates thoroughly enjoyed the pizza party. Thank you for sending me the link for the pictures I really appreciate you taking the time do so."
– George, Mira Loma

"The service was awesome."
"I hired pizzarageous for my sons graduation party. The service was awesome. I told them where I wanted them to setup, and they did the rest. The first party that I didn't have to do all the work. I got to relax and enjoy myself."
– Cindy M.