AFFORDABLE CATERING IN LOS ANGELES, ORANGE COUNTY AND MOST OF SOCAL
Get a quote and check availability
If you are looking for affordable catering and want to get the most for your money you will want to consider:
The flavor of the food
The variety of flavors to accommodate a wide variety of guest preferences
The flexibility to accommodate for specific diets and sensitivities (vegan, gluten free)
The quality of the ingredients
The amount of the food
The friendliness of the servers
The affordability of the catering service
Additionally, it is equally important to consider what level of support to your event that the affordable catering service provides:
Set up
Prep
Replenishment
Cleanup
Lastly, do they supply their own:
Work area
Ovens
Serving tables
Serving implements and tools
PIZZARAGEOUS ticks all the above boxes, for affordable catering at just about any budget!
With affordable catering you don't need to cut corners where it counts. Teaming up with PIZZARAGEOUS to cater your event will keep your budget in line while allowing you to host an amazing event while serving top of the line delicious pizza, and not have to worry about the rest.
When planning your event you will want to factor in the number of people attending and how long of an event you are hosting. When you are looking for affordable catering in Los Angeles, Orange County and the surrounding areas, you will want to weigh in the service that comes with it in addition to the amount and quality as well as the taste of the food served to your guests.
At Pizzarageous we pride ourselves on delivering exceptional value with every event we serve. Our team of friendly pizza chefs will take care of everything food related from setup, prep to baking it fresh and making sure that the food keeps coming. We even take care of clean up. We provide a full service catering experience and can accommodate nearly any budget.
Our full service catering ensures you have less to worry about, so you can focus on your guests!
PLANNING YOUR AFFORDABLE CATERING EVENT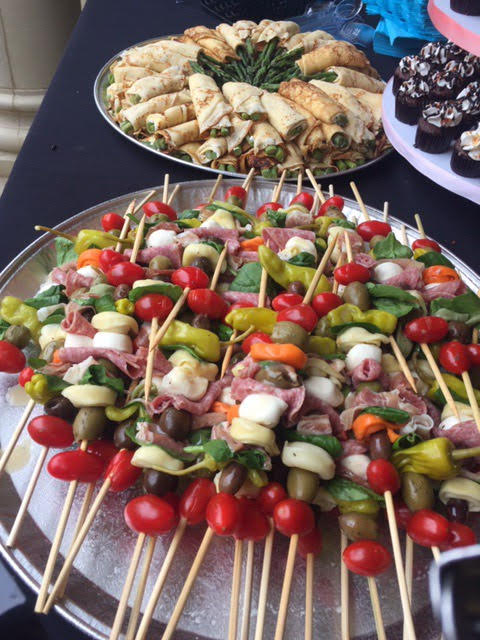 PIZZARAGEOUS makes planning easy for you as you plan your event not only do we serve amazing pizza but we do full service catering that is budget friendly.
If you are needing budget event catering in Los Angeles and the surrounding areas, look no further than PIZZARAGEOUS. While we offer a lot of menu options we can fit nearly any budget's need. So if you are planning a wedding, a birthday party or a retirement party or even a large corporate event PIZZARAGEOUS is your budget friendly catering team.
Affordable catering never tasted so outrageously delicious! Check out our amazing menu options below!
BASIC MENU
Our Basic Menu is a feast of the classics; featuring pepperoni, three cheese and vegetarian, this line up of pizzas are all baked fresh with our beloved Italian style crust.
UPPER CRUST MENU
Now this menu is kicking it up a notch on the flavor meter! Our Upper Crust Menu offers 13 amazing pizza creations -and this delectable lineup is certainly not limited! Flavor meter is set to high with fan favorites as: The Works, Thai-rageous, Barbecue bacon triple cheeseburger and many more appetizing flavor combinations.
PIZZA BAR MENU
Our Pizza Bar is a phenomenally fun experience! The Pizza Bar menu option lets your guests build their very own custom pizzas! The guests choose from fresh ingredients to custom design their very own sauce and toppings combinations; putting the special in their personalized specialty pizza!
BOOZZA MENU
This menu breaks the flavor meter and flips the table! Hands down our alcohol infused line of fresh delicious pizzas knows how to wow a crowd! These pizza toppings are all infused with a variety of alcohol such as vodka, fireball, gin and bourbon. This menu lineup is sure to inspire awe at your event.
AFFORDABLE CORPORATE EVENT CATERING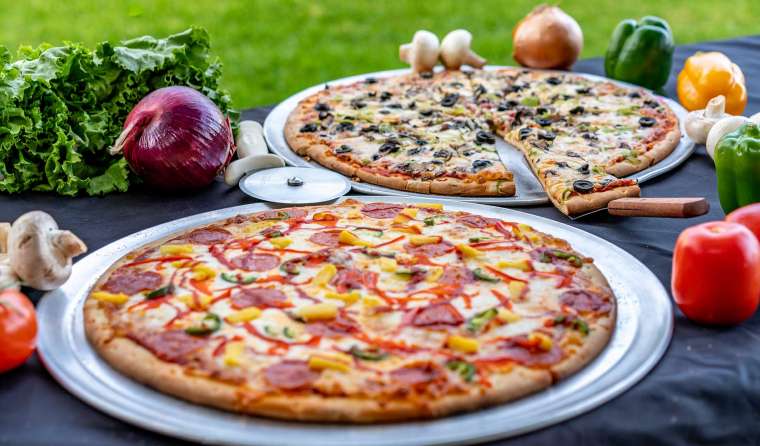 When the bottom line matters you want to make the most of your budget. Pizzarageous can cater any size corporate event. We bring our own pizza ovens so you are assured of fresh hot delicious pizza cooked directly onsite at your event location.
Check out our past events here
WEDDING CATERING IN LOS ANGELES, CA
Your special day doesn't have to break the bank; when you partner with Pizzarageous we bring the very best freshness and flavor, delivered with attentive care and premium service for reasonable pricing. Your special day is important and we pride ourselves on making our wedding catering deliciously memorable.
Check out our gallery for weddings our friendly team of pizza experts have catered!
SPECIAL EVENTS & AFFORDABLE BIRTHDAY PARTY CATERING!
Our special events and birthday party catering are out of this world wonderful. With Pizzarageous you don't have to spend a lot to get A LOT. The Pizzarageous team prides itself on delivering a one of a kind pizza experience that is budget conscious but oh so fun! Our pizza bar is a wonderful hit at birthday parties and special occasions as its interactive and allows for pizza artistry to hit new levels!
Check out our gallery of some of our pizza parties of the past!
PIZZARAGEOUS PIZZA CATERING FOR YOUR SOCIAL EVENT
Our friendly pizza chefs hand craft each pizza to perfection. And with our onsite mobile pizza ovens you are assured of fresh delicious pizza no matter where you are hosting your event. Our fantastically delicious pizza is sure to impress your guests and pizza is always a fun food no matter what type of event. It can go classy, sophisticated or simple. One thing for sure is that pizza is always fun.
Pizzarageous affordable catering services not only provide amazing pizza but also a special and fun food experience. Our onsite pizza catering service comes with a full line up special menu options that you decide on in advance. Your guests are sure to love pizzarageous and so will you! Let us help make your event truly memorable with our delicious pizzas.
SCHEDULE AFFORDABLE CATERING FOR YOUR EVENT NOW
Book Pizzarageous for your event online today or call 714-822-7550!
Testimonials
what customers say

"The food was great, the service was prompt and very professional"
"The food was great, the service was prompt and very professional. Susanne arrived on time, set up quickly and served my guests excellent food! Great communication prior to the event. I hope to work with her again. "
– Lee, Tustin, CA

"You truly went above and beyond our expectations."
"On Behalf of the Mira Loma Home Depot SDC, I would like to thank you, your husband, and son for the great service you provided us with yesterday, you truly went above and beyond our expectations and our associates thoroughly enjoyed the pizza party. Thank you for sending me the link for the pictures I really appreciate you taking the time do so."
– George, Mira Loma

"The service was awesome."
"I hired pizzarageous for my sons graduation party. The service was awesome. I told them where I wanted them to setup, and they did the rest. The first party that I didn't have to do all the work. I got to relax and enjoy myself."
– Cindy M.