Get a quote and check availability
Pizzarageous – Mobile Pizza Ovens At Your Irvine, CA Event!
Pizzarageous offers affordable full service pizza catering in Irvine, California. So if you have an upcoming event that you need an assist with, we have you covered with delicious pizza and more that is made onsite so it's fresh and hot when served.
We handle all food related needs including clean up. We've been providing pizza catering to Irvine, CA since we started back in 2010. We pride ourselves on a job well done – and our job is to ensure that your catered event is a success! 
No event is too large or too small or too far out and remote for us to provide our pizza catering services to. If your remote venue in Irvine doesn't have power access we can bring our own generators. We also bring our own mobile pizza ovens to your Irvine event location. Our pizza trucks ensure that we get a hot and fresh consistent bake on each of our signature pizzas that are served to your hungry guests.
CORPORATE EVENT CATERING
Planning your corporate event but don't want to break the budget? We feature multiple budget friendly menu options so that your corporate budget won't be aggressively strained. The only red you will see is our delicious sauce on our flavorful pizzas. Get a price quote. 
Visit our gallery to see a few of our client's and their successful corporate catering events!
IRVINE WEDDING CATERING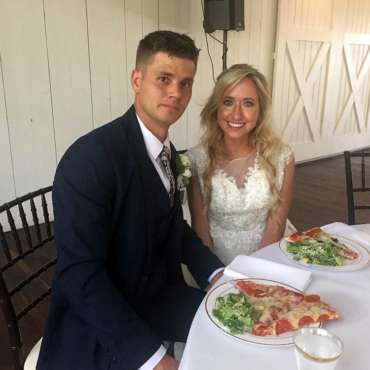 Needing a wedding caterer in Irvine that you can trust with your most special day? By partnering with Pizzarageous you are assured friendly full service catering. And we make the success of your wedding reception our number one goal! Not only can we help you throw a wonderful wedding feast –we can respect your budget goals. 
Take a look at our gallery to view a few of our pizza catered wedding events!
Here at Pizzarageous our pizza chefs know how to make pizza so delicious that it is truly a wedding-event-worthy-meal. Take a look at our menu where we have a lot of options to please even the most difficult crowds. We offer traditional, classy, daring or bold flavors. You get to choose the flavors in advance so that when we show up to your event we make exactly what you requested. In addition to our delicious pizzas you get full service catering; making for a winning combination to ensure your successful wedding reception. Call to book your wedding reception pizza catering today.
SPECIAL EVENTS & BIRTHDAY PARTY CATERING
Throwing an Irvine birthday party or other special event and you need catering? We can handle any size crowd and any location. With our mobile pizza trucks on hand we cook onsite at your venue of choice. Party planning just got a whole lot easier when you have a full service pizza cater on speed dial. Call us at: (714) 822-7550
Check out the gallery of kids birthday party catered events!
HOW IT WORKS – PIZZARAGEOUS IRVINE EVENT CATERER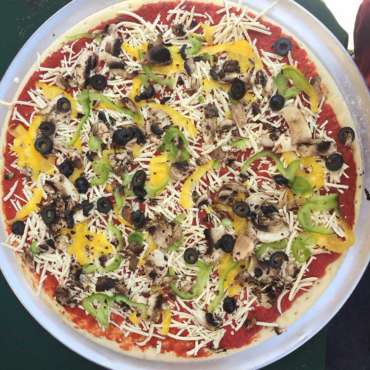 We handle all the food details: setup, prep, baking, replenishment AND cleanup. You just need to tell us: where, when, how many, and select your menu options before hand and we handle the rest. 
From start to finish our pizza chefs are professional and friendly and will get your guests taken care of with a smile. We run point on all things food related while you and your guests get to enjoy the event AND have fresh delicious onsite-baked pizza. We work quietly in the background to keep things running smoothly and as hassle free as possible.
Even if you have a remote location and/or a location without power options we can still cater your Irvine event. With our mobile pizza oven trucks and our own generators we easily can tackle any venue. Just let us know in prior to the event!
Select your menu options in advance so that we know the game plan specific to your event and are ready to make the pizzas to your specifications. Choose from our extensive menu options below. Gluten Free Crust is one of our many available menu options as well as vegan cheese. All of our pizzas are freshly baked with an italian style crust. 
BASIC MENU
Straight forward fan favorites is what our Basic Menu is all about. This menu selection is complete with the classics; including pepperoni pizza, blended three cheese pizza and vegetarian pizza and more.
UPPER CRUST MENU
Wow oh wow — the Upper Crust Menu is a taste sensation that your guests will absolutely love. Featuring a variety of our custom specialty pizzas such as our Smoked Gouda Ham and Bacon, Barbecue Bacon Triple Cheeseburger, The Works, Thai-rageous and many more!
PIZZA BAR MENU
Talk about a fun way to get your crowd involved. Our Pizza Bar will have your guests ready to build their very own pizzas! They can custom design their very own sauce, cheese, spice and flavor combinations from a variety of toppings you select in advance. Our pizza chefs handle the baking!
BOOZZA MENU
Shut the front door! Our alcohol infused line of fresh pizzas is certain to impress! These pizza toppings are infused with vodka, fireball, gin and bourbon, offering bold flavors most pizzas never attain.
PIZZARAGEOUS PIZZA CATERING FOR YOUR IRVINE SOCIAL EVENT
With our incredible team of professional pizza chefs, we offer versatility and ability to handle any venue with our onsite mobile pizza ovens. We pride ourselves on providing a fun and unique take on delicious pizza with our onsite baking. With our full service catering your guests will enjoy the hassle free dining experience at your Irvine event. Let us help make your event truly special with our spectacular pizzas.
We are able to handle any size of catered pizza event that you need. Our pizza trucks are configured with multiple ovens so that we can have a steady supply of pizzas, piping hot fresh right from the oven and ready to eat. 
SCHEDULE CATERING YOUR EVENT NOW
Or call 714-822-7550 to reserve your special day with Pizzarageous for your Irvine event!
Testimonials
what customers say

"The food was great, the service was prompt and very professional"
"The food was great, the service was prompt and very professional. Susanne arrived on time, set up quickly and served my guests excellent food! Great communication prior to the event. I hope to work with her again. "
– Lee, Tustin, CA

"You truly went above and beyond our expectations."
"On Behalf of the Mira Loma Home Depot SDC, I would like to thank you, your husband, and son for the great service you provided us with yesterday, you truly went above and beyond our expectations and our associates thoroughly enjoyed the pizza party. Thank you for sending me the link for the pictures I really appreciate you taking the time do so."
– George, Mira Loma

"The service was awesome."
"I hired pizzarageous for my sons graduation party. The service was awesome. I told them where I wanted them to setup, and they did the rest. The first party that I didn't have to do all the work. I got to relax and enjoy myself."
– Cindy M.