Get a quote and check availability
Pizzarageous – Mobile Pizza Ovens At Your Huntington Beach Event!
Hosting an event or party and need an exciting full service caterer in Huntington Beach? PIZZARAGEOUS has you covered, our team will serve your guests piping hot pizza fresh from our mobile pizza ovens. Sit back and relax, we take care of everything from preparation, to cooking and cleaning up. As well as custom gourmet pizza, we also have a large selection of delectable appetizers and refreshing drinks menu.
PIZZARAGEOUS has been catering in Huntington Beach and the surrounding areas since 2010. 
Huntington Beach is the home of PIZZARAGEOUS. We have catered Huntington Beach and the surrounding areas for countless events and parties.  Here at PIZZARAGEOUS we cater all manner of events, regardless of the size of the crowd or the location of the venue. 
Our menu features a variety of flavor options, that are both budget friendly and delicious. We offer different options and a selection of tastes to perfectly compliment any occasion. Our onsite mobile pizza ovens allows for the freshest food, delivered hot out of the oven we make it on an as demand dictates so your guests are assured a fresh meal as they are ready for it! 
We have our own mobile pizza ovens which makes us highly versatile since we can set up in any venue – with or without power. 
HUNTINGTON BEACH CATERING
We take care of everything! Our team handles all things catering; from making it easy for you to customize your menu and food selections, to the set up. Once onsite and set up, our pizza chefs take charge of making the pizzas right there onsite and baking them to delicious perfection directly on location. 
PIZZARAGEOUS – MOBILE PIZZA CATERING 
Regardless of your venue's location our mobile pizza ovens are able to run on standard outlet power or if it happens to be a more remote location without power, we can bring our own generators to get our mobile pizza ovens fired up. We always ensure you get that fresh baked pizza goodness your guests will love!
CORPORATE EVENT CATERING
PIZZARAGEOUS adds an element of comfort to any corporate catering event. Making for an easy food item to hold and eat as you socialize! Our goal is to provide a delicious bite during those natural quite lulls in conversation. Complementing, not distracting!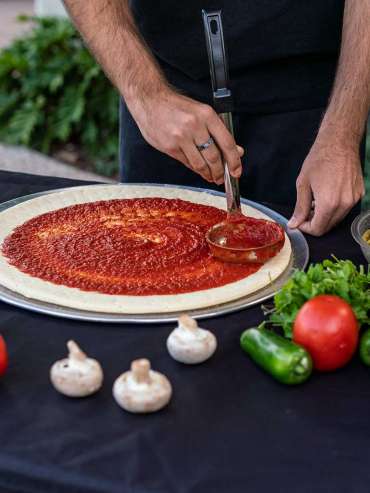 WEDDING CATERING
Adding a touch of sophistication to your wedding day with our Upper Crust Menu options will have your guests savoring the wonderful memories as well as the food! For a more classical pizza menu check out our Basic Menu or for an all adult crowd you might consider our Booza Menu. This is a direct hit to the palate with our booze infused toppings! 
Our menu options allow for customization so you can maximize your guests experience so that it compliments your wedding experience rather than distracts! Leaving you and your guests enjoying the event and food!
We make your wedding easier by providing everything necessary to cater your Huntington Beach wedding! You direct us on what menu and options you want, we show up with our mobile pizza ovens in tow on your special day, and we get to work. We set up, prep, fresh bake all the food, and we take care of replenishing and clean up! You and your guests just get to enjoy your wedding festivities as we work in the background!
BIRTHDAY PARTY CATERING
Planning a spectacular special event or need birthday party catering? Pizza always delivers! And with PIZZARAGEOUS catering your event we take over all of the set up, prep and baking, replenishing of food as needed as well as post event cleanup. We handle all of the food from start to finish for you so you have more time to spend with your guests.
MENU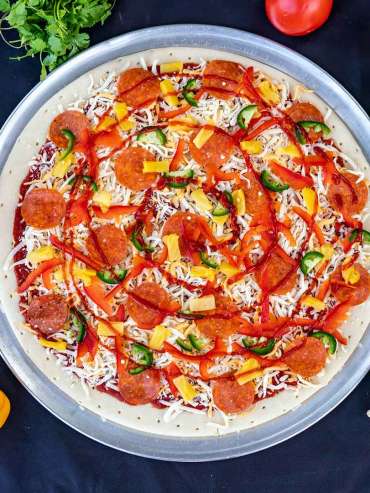 BASIC MENU
The Basic Menu keeps things simple and classy with all of the traditional classic pizza toppings, which includes pepperoni, three cheese and vegetarian, all freshly baked with our delicious Italian style crust. These pizzas are far from basic in the taste department and are sure to please any crowd!
View Full Basic Menu >
UPPER CRUST MENU
If you're looking to increase the flavor factor without killing the budget ordering from our selection of custom specialty pizzas gives you such flavor sensations as: The Works, Thai-rageous, Barbecue bacon triple cheeseburger along with many more amazing flavor combos. There are over 13 different options to choose from on this menu which will help make a selection that is sure to satisfy even the most complex tastes.
View Full Upper Crust Menu >
PIZZA BAR MENU
The onsite pizza bar is an interactive way to get your guests involved! Our Pizza Bar will have your guests having fun as they build their very own pizzas! The pizza bar allows your guests to choose from various fresh ingredients, so they can customize their own pizza build with their choices of sauce and toppings flavor combinations.
View Full Pizza Bar Menu >
BOOZZA MENU
This booze infused menu option is a sure way to flip the table on those taste buds! Adults are impressed with the unique and delicious flavor combinations of our alcohol infused line of fresh pizzas! These pizza toppings are infused with vodka, fireball, gin and bourbon, and are sure to impress and add to the fun of your event.
View Full Boozza Menu >
PIZZARAGEOUS PIZZA CATERING FOR YOUR SOCIAL EVENT
With our onsite mobile pizza ovens and our simply scrumptious pizza, your guests will be raving about your event long after the party ends! PIZZARAGEOUS is a unique and fun experience! We love to help you with your Huntington Beach catering needs. PIZZARAGEOUS is a sure way to bring fun and flavor to any event with our hot, freshly made pizza. 
Our mobile pizza catering services not only provides you and your guests with amazing pizza but also a wonderful taste sensation. Additionally, our onsite pizza catering service comes with a full range of menu options that you decide on in advance. A full range of flavors that your guests are sure to love. Let us help make your event truly PIZZARAGEOUS with our delicious take on exceptional pizza. 
The Huntington Beach catering scene got upgraded to PIZZARAGEOUS in 2010. With this distinction brings the highest level of fun, delicious food that allows for custom themed flavors, flexibility in setting up in any location – all handled expertly by our PIZZARAGEOUS team of pizza chefs. We handle everything food catering wise from set up, to managing the expertly crafted and fresh baked pizza, replenishing and clean up. We ensure that you and your guests have nothing but the best most amazing PIZZARAGEOUS time in the beautiful city of Huntington Beach, California. 
SCHEDULE CATERING FOR YOUR EVENT NOW
Fill out our catering form or call us direct at 714-822-7550 to book PIZZARAGEOUS.
Testimonials
what customers say

"The food was great, the service was prompt and very professional"
"The food was great, the service was prompt and very professional. Susanne arrived on time, set up quickly and served my guests excellent food! Great communication prior to the event. I hope to work with her again. "
– Lee, Tustin, CA

"You truly went above and beyond our expectations."
"On Behalf of the Mira Loma Home Depot SDC, I would like to thank you, your husband, and son for the great service you provided us with yesterday, you truly went above and beyond our expectations and our associates thoroughly enjoyed the pizza party. Thank you for sending me the link for the pictures I really appreciate you taking the time do so."
– George, Mira Loma

"The service was awesome."
"I hired pizzarageous for my sons graduation party. The service was awesome. I told them where I wanted them to setup, and they did the rest. The first party that I didn't have to do all the work. I got to relax and enjoy myself."
– Cindy M.